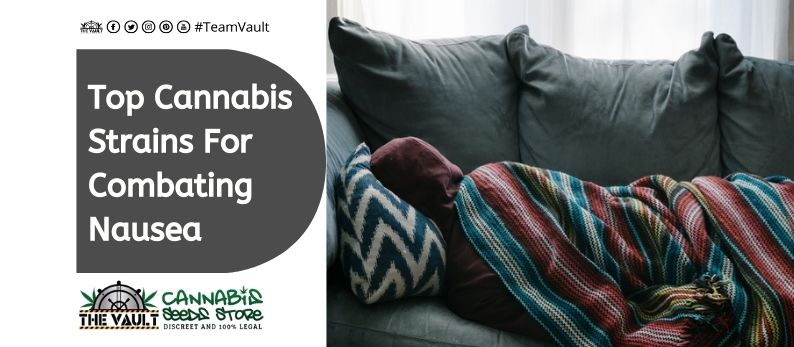 Nausea can sound relatively tame but can be absolutely debilitating. For those who suffer from stomach issues or are going through treatments that induce nausea and vomiting it can make existing extremely difficult. Not only does it affect the ability to eat and drink, but just moving around and getting things done can be impossible. The causes of nausea are extremely varied, it can be anything from brain damage to emotional stress. From cancer treatment to food poisoning. For those who are afflicted with constantly feeling sick, these are just a few of the best strains. Of course, all strains can be vaporised for those who would find smoking next to impossible. These strains are also highly medicinal and are recommended to patients regularly.
This strain may not sound very tummy calming, but it is a fantastic strain for nausea treatment. Durban Poison is a strong Sativa strain that is simultaneously uplifting, calming and energetic. It has a flavour of liquorice and with a touch of spice, haze and aniseed. Durban Poison is a real mood lifter which makes it a great daytime strain. For anyone who needs nausea relief but still needs to get things done. Since one of the primary issues of dealing with nausea is feeling like you can't really move, Durban Poison can be very helpful. She is also straightforward to grow, which makes her ideal for those new to growing their own medicinal cannabis. Durban Poison takes just 8 – 9 weeks and can be grown indoors, outdoors or in a greenhouse.
One of the best flavours for combating nausea is lemon. As a child flat lemonade was always my go-to if I was poorly. Lemon Haze is another Sativa heavy strain and also has a long-lasting and uplifting effect. This means she can also be great for fighting with depression, which can come hand in hand with some causes of nausea. The THC level is around 17%, so decent without being over the top. She is a wonderful daytime medicine that is motivating, talkative and happy. She takes 65 – 85 days to flower and can be grown indoors, outdoors or in a greenhouse.
Lavender is one of the most calming and comforting scents in existence, so perfect for a nausea settling strain. As one would expect Lavender is an Indica strain, a soothing and comfortable high that settles the mind as well as the stomach. The effect is powerful and perfect for those who need help falling asleep at night. Nothing keeps you awake like stomach discomfort. Her aroma is deliciously soft, a mix of herbs, mint and of course lavender. The plant itself is a vigorous grower that produces impressive yields of buds covered in resin. This strain flowers in just 60 – 65 days and can be grown indoors or outdoors.
This beautifully balanced Indica/Sativa cross is a perfect medicinal strain. It is fantastic for nausea but also for a variety of other ailments such as pain, PMS, arthritis, asthma, epilepsy, glaucoma, migraines and multiple sclerosis. She actually won 2014 SoCal and the Michigan HighTimes Best Hybrid. The effect is euphoric and uplifting as well as relaxing and comfortable. The flavour and scent are a mix of citrus, diesel and sweet fruits. The strain definitely earns its name with the glittering coating of sticky resin that completely covers the buds. This strain can work well as a day time medication, but only in the sense that it isn't overly soporific. With a THC level of 24%, it also isn't the best for getting things done. For anyone who just wants to take the day off, feel amazing and not be hassled by nausea this is the perfect strain. Gorilla Glue flowers in 8 – 9 weeks and can be grown indoors, outdoors or in a greenhouse.
London OG was created by crossing Mob Boss, Guide Dawg and Flamethrower OG. The buds are huge and covered by a layer of crystalline resin. The effect is a strong and long-lasting physical one with a hint of relaxation. She is Indica dominant and is best used in the late afternoon or early evening. London OG is great for bedtime and really takes the pain and stress out of chronic nausea. She also gives plenty of headspace and just allows the psyche to float away. These plants usually grow to pretty incredible sizes so they need plenty of growing space. As well as helping with nausea London OG helps to bring back appetite, reduce pain, and is perfect for helping with sleep issues. This strain has a flowering time of 8 weeks and can be grown indoors or outdoors.
This final strain is a CBD heavy, low THC strain that is perfect for anyone who doesn't want to get too high, but does want the medicinal value of the strain. The THC to CBD ratio is 1:1, both sit at around 6%. This means that it can be used during the day and users won't lose too much lucidity. Since this strain is so high in CBD it can be used for a wide variety of issues including nausea. It is also recommended for those suffering from arthritis, side effects of chemotherapy, pain, Parkinson's, inflammation and muscle spasms. This also makes it a great strain for PMS which tends to bring pain, nausea, inflammation and muscle spasms into one fun party. The effect itself can be a bit couch locky which means it's not necessarily great for getting stuff done. For anyone looking for something to enjoy on the couch or in bed without the head spins then this is the one. Hash Plant CBD has a short flowering time of 7 weeks and can be grown indoors or outdoors.
As with all strains recommended for medicinal issues, it's a good idea to see a doctor and do plenty of research. Everyone is different and there is no cure-all, have a look around and make sure to find the perfect strain.
Newsletter Sign Up
Make sure you never miss another Vault promo – sign up for our newsletter at http://goo.gl/Bt2Ba2
Remember: It is illegal to germinate cannabis seeds in many countries and some remote, less enlightened planets outside the core systems. It is our duty to inform you of this fact and to urge you to obey all of your local laws to the letter. The Vault only ever sells or sends out seeds for souvenir, collection or novelty purposes.