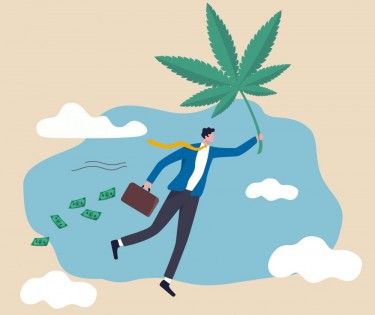 The year 2021 is coming off the back of a very strong 2020 for the cannabis industry. The development of the COVID-19 pandemic and subsequent lockdown forced in different regions of the world promoted cannabis markets and stocks pretty well. Production increased despite the apparent restrictions across different countries as there was a need for supply to answer the rapidly increasing demand seen across the board. It should be noted that all economic projections predict further growth and success for the cannabis industry. The year 2021 is expected to be a good year where the cannabis industry enjoys the benefits of increased market activity.
With a new administration at the helm in the white house, more open markets are expected to rise. Smart investors should be looking to get involved in the cannabis market and enjoy the burgeoning benefits of the cannabis industry. However, when it comes to the matter of stocks and other activities involving the stock markets, it will be wrong to jump in half-baked. This is why this article will be addressing what experts have to say about cannabis stocks and ETF's, the backbone of cannabis investment.
What to look for in the cannabis market
Like every other big market out there, the cannabis market has its uniqueness and peculiarities. Proper understanding of these peculiarities will help investors to identify what they need to look for in such markets. New investors are trooping into the cannabis industry as more eyes are being opened to the grand opportunity the cannabis industry provides. Based on all economic projections, the cannabis industry has the potential to develop into something special that'll give lucrative gains for all parties involved.
Two major areas of investment in the cannabis market that investors need to be on the lookout for are cannabis stocks and Exchange-traded funds (ETFs). Many investors are very confident with stocks while some see ETFs as the way forward. The general idea is that cannabis stocks are for the market-savvy investors while ETFs are for the less market-oriented investors.
Both stocks and ETFs have their pros and cons and it is until one compares and contrasts that you can juxtapose which to forgo and which to hold on to; or whether the incorporation of both is possible.
A lot of experts have given their views on both sectors and we will be using these insights of theirs to determine when to consider stocks and when to opt for ETFs.
Investing in stocks
Requires time
Anyone willing to step into the cannabis industry must be willing to play the long game. The cannabis market and its stocks have a special relationship with regulation. This is because the natural herb that moves the market is only legal in some states as it is still illegal federally. This peculiarity means that anyone willing to invest in cannabis stocks must understand that not all sticks will give a good yield. Different movement in markets can affect stocks in different ways but if an investor intends to cash in on the huge rewards that come with the high risks in stocks, he must know its requires time. Investors that do not know this tend to lose all that they came into the market with because they are less informed.
Requires research
There is hardly any market out there that anyone can just jump into without adequately studying the market. Investors willing to invest in cannabis stocks must be prepared to study market movements in order to not end up losing all that they came into the market with. This research is important as it helps the investor to understand how the market operates and how these operations turn to value. This is the view of Alan Brochstein, founder of 420 Investor.
Many factors need to be considered
Investing in cannabis stocks requires factoring in some external factors that can play a role in determining the outcome in the market. Examples of such factors include the performance of a company, the leadership of the company and its effectiveness, and the management structure of the company. These parameters serve as a good yardstick to gauge the viability of a company and how it will perform in the cannabis market.
Investing in ETFs
ETFs simply refers to a collection of securities that operate with a singular underlying index. ETFs trade daily which makes them somewhat similar to stocks. Investing in ETFs has some unique differences from investing stocks which makes some investors prefer ETFs to stocks.
Less Research
Compared to investing in stocks, ETFs require less intensive research and analysis. ETFs, help to easily educate the investor about the market without the need for much research. This statement was made by Michael Sassano, CEO of Somai Pharmaceuticals. The accomplished CEO has also been a private investor for over 25 years which shows he knows what he is saying.
Less expertise about the stock market
For less savvy investors who want to operate in the cannabis market despite less knowledge about the market movements, ETFs are the option. Without insider information on which stocks pick, those who invest in ETFs do not need to pay unnecessary due diligence. A limited analysis is done as it will be wrong to go into the market completely blind. Investors will just be required to take note of the track record of investment and associated charges of an ETF. This is the view of Dennis O'Neil, current president of BioMediCan who is also a former investment banker.
Bottom line
The experts have spoken and they have given reasons why and when investors can consider stocks or ETFs. Availability of time is a major factor as it could be the major determining factor that suggests whether an investor should go for stocks or ETFs. Experience in the market is also another important factor as more experienced investors are expected to go for stocks while less experienced investors opt for ETFs. Understanding this summary of what the experts have said is important because it can help you to comfortably choose between stocks and ETFs.
CANNABIS AND THE STOCK MARKET, READ MORE…
CANNABIS STOCK MARKET BUBBLE, IS IT STILL COMING WITH LEGALIZATION?
OR..
ARE REDDIT USERS "GAMESTOPPING" CANNABIS STOCKS RIGHT NOW?