Peppermint Crunch Pot & Puppy Chow!
Don't let the name fool you! Making Peppermint Crunch Pot & Puppy Chow is not for dogs!
The perfect addition to a Christmas cookie tin gift for a bud, or a delicious little edible late-night snack, our puppy chow recipe is to die for!
It's made with Chex cereal and crushed peppermint candy canes! Can it get any better?!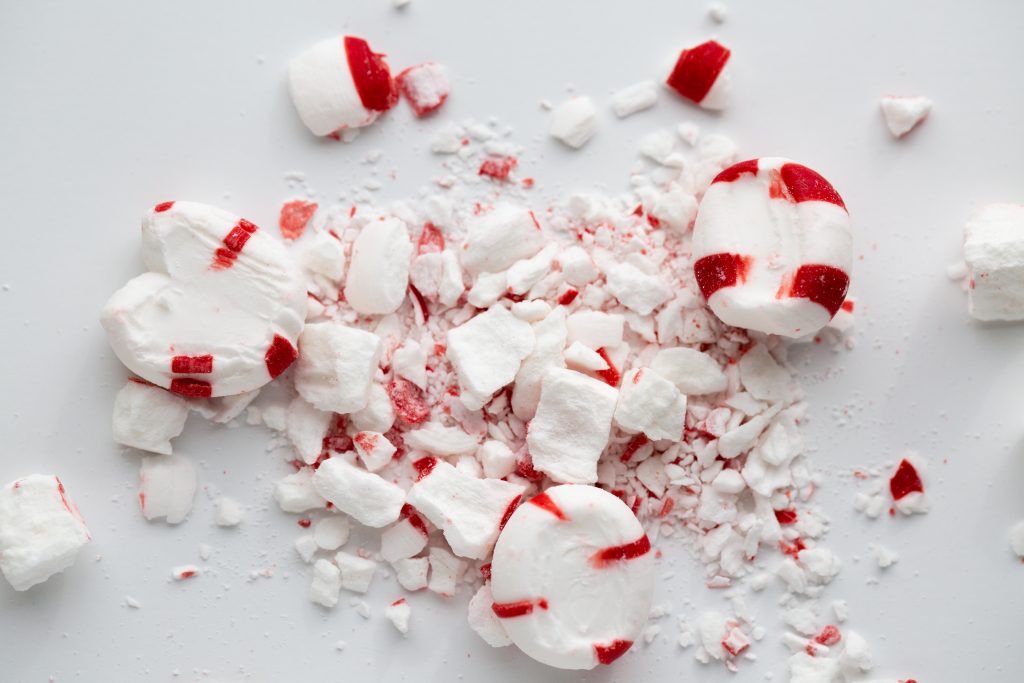 How Do I Infuse Pot Into My Edibles?
The answer to this question is simple and easy: Cannabutter baby!
Making Cannabutter in large batches is probably the most convenient way of ensuring easy, quick and yummy recipes on the fly.
That's because Cannabutter is so super versatile and goes in just about anything.
Elevate any dish with some Cannabutter, and enjoy the Christmas buzz!
Can I Freeze Cannabutter?
Personally, I have not made enough cannabutter to freeze it, but looking online there are many people who have!
I'm Dutch and we freeze A LOT! So I'm going with my heritage on this one, and saying go ahead, freeze it friends!
You'll just have to make sure you take your butter out 4-5 hours prior to baking or creating in your cannabis kitchen.
I would ere on the side of caution, and take it out the night before baking.
How Do I Make Cannabutter?
We've got the recipe here for you – best idea is to save it to your bookmarks so you can follow the directions precisely.
Then, once you've got the hang of it, you're good to ganja!
---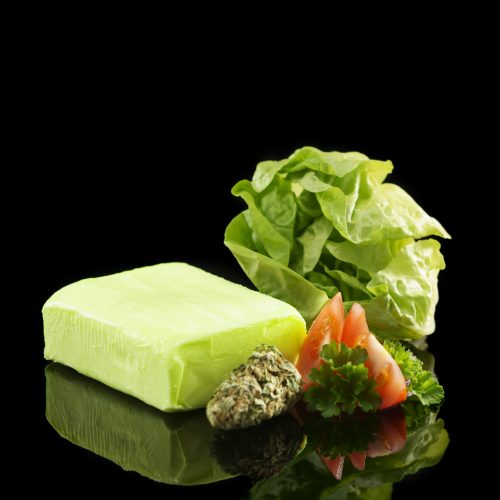 Servings: 1 Cup
Calories: 1628kcal
THC: 700-1400mg
Author: Steph Van De Ven
Decarboxylate your weed by spreading your cannabis evenly on an oven tray And coat with aluminum foil.

Place in the oven on 240F/115C for 25 till 45 minutes, and then let it cool.

Grind your dry cannabis or chop it till fine.

Place the cannabis in a strong mason jar, add butter and (1 tsp of sunflower lecithin)(optional)

Place your closed jar in cold water and let it come to a boil, Boil for 2 to 3 hours.

Strain your butter through a cheesecloth.

Cool down

Now you can use the Cannabis Butter (Cannabutter)
If using a mason jar, be sure to start with cold water. Furthermore, it is imperative to let the water cool gradually so that your glass will not shatter.
The video guide might be slightly different than the blog recipe. The blog recipe is the most updated and accurate.
Calories: 1628kcal | Carbohydrates: 1g | Protein: 2g | Fat: 184g | Saturated Fat: 117g | Cholesterol: 488mg | Sodium: 1621mg | Potassium: 54mg | Sugar: 1g | Vitamin A: 5673IU | Calcium: 54mg
---
Let's Make Peppermint Crunch Pot & Puppy Chow!
Why is it called 'puppy chow' if it's not intended for dogs? Well, take one look at the image below in our recipe and you'll know why!
It actually does look a little like dog food, BUT I promise it doesn't taste like it!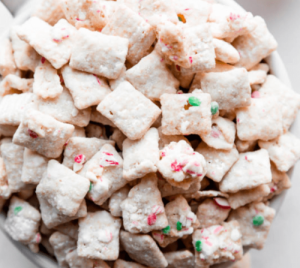 Author: Steph Van De Ven
Cost: 15+
Stove top

Double Boiler

Whisk & Spatula

Mixing Bowl

Large Ziplock Bag (for crushing candy cane)

Rolling Pin

Large, freezer-style ziplock bags
5

cups

Rice Chex Cereal

10

oz

White Chocolate

3

tbsp

Cannabutter

1

cup

Crushed candy canes

3/4

cup

Confectionaers sugar

also known as icing sugar
Pour the dry cereal into a large mixing bowl

Melt your white chocolate using a double boiler method. Stir often, and use a medium heat.

Once your white chocolate is melted, add in Cannabutter.

Set aside.

Pour your Candy Canes into a large ziplock bag and roll over them with a rolling pin. You can use two tea towels and place one underneath, and the other over top, and then have fun smashing and bashing your candy canes in the bag too.

Pour the chocolate over the cereal in the bowl. Gently fold in crushed candy canes.

Pour the entire mixture in a large, sealable ziplock bag and then pour your confectioners sugar inside.

Shake it up hard!

Pour everything back into a sealable container. You can keep them cold or at room temp on the counter for up to 2 weeks!
Enjoy Cannabis Christmas recipes, tips, tricks, and cooking products to make cooking and baking with weed even more fun!
Share your favorite Cannabis edible recipes or your spin on current recipes below in the comments. We'd love to hear from you!