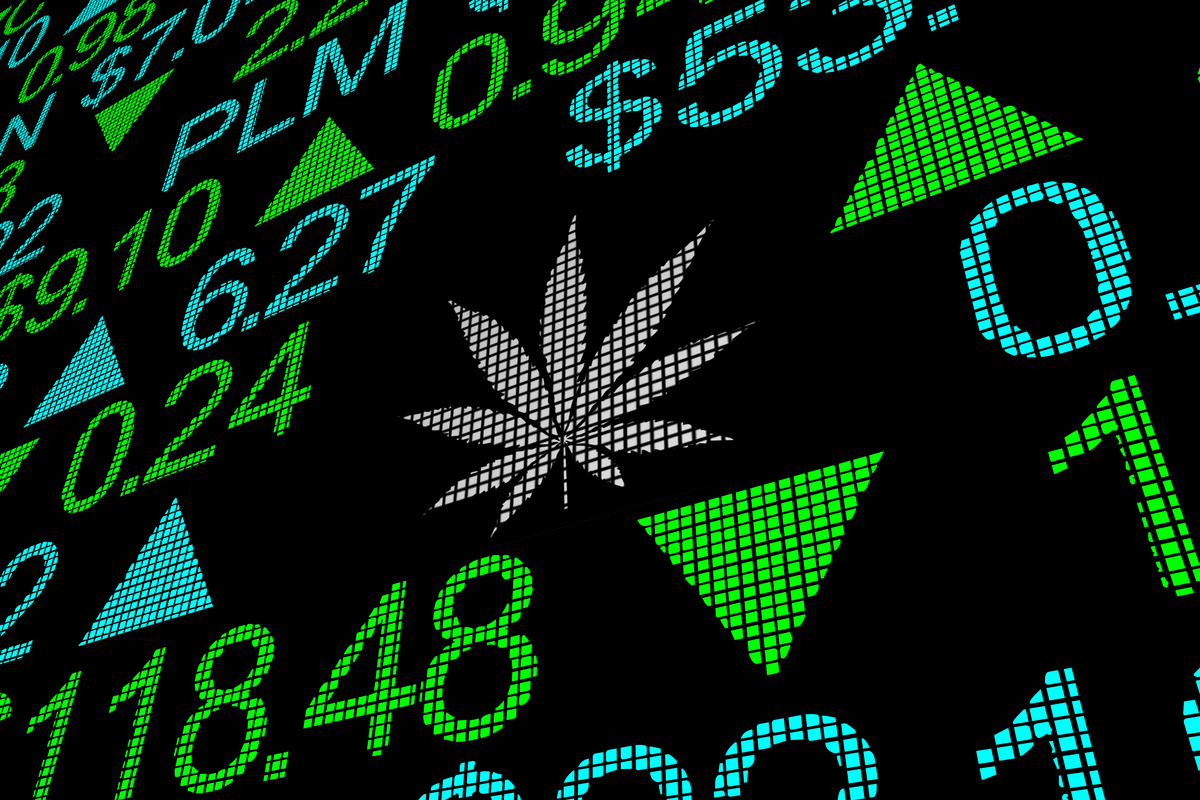 Grapefruit USA, Inc. Announces Year-Over-Year Revenue Growth
California-based manufacturer and distributor Grapefruit USA (OTCQB: GPFT) provided its unaudited preliminary results for calendar year 2020. The company's reported total revenues of approximately $3,672,353 reflect an approximate increase of $3,221,156 or 714 percent over 2019 numbers.
"Our eye-popping 714 percent year-over-year revenue growth, achieved during the worst global pandemic in modern history, was especially gratifying and demonstrates the deep strength and resolve of our Company's team," said Grapefruit USA Chief Executive Officer Bradley J. Yourist. "We continued to expand our indoor premium exotic cannabis flower distribution into the entire California wholesale marketplace."
---
Artelo Biosciences Receives $3.0 Million in Net Proceeds from Exercise of Warrants
Biopharmaceutical company Artelo Biosciences (Nasdaq: ARTL) exercised of a portion of the warrants from its October 2020 financing. Existing investors agreed to exercise warrants for net proceeds of approximately $3 million.
"The proceeds from the exercise of these warrants strengthen our balance sheet and based on our most recently reported financial results as of November 30, 2020 bring our pro-forma cash balance to approximately $10.4 million," said Artelo President and Chief Executive Officer Gregory Gorgas. "We intend to utilize this capital toward achieving milestones we believe have the potential to generate significant value for our shareholders."
---
Village Farms International Repays Promissory Note, Announces Additional Investment
Canadian cultivator Village Farms International (Nasdaq: VFF) (TSX: VFF) repaid a $15.6 million promissory note originally issued to Emerald Health Therapeutics in the November 2020 acquisition of 36,958,500 common shares of Pure Sunfarms.
The company also made an additional equity investment in Asia-Pacific market cannabinoid platform Altum International, increasing Village Farm's equity ownership in Altum from 6.6 percent to approximately 10 percent.
"The Altum team is making strong, steady progress on the execution of its business plan and we are pleased to be able to increase our equity stake in the company on similar terms to that of our original investment," said Village Farms Chief Executive Officer Michael DeGiglio.
---
The Valens Company Provides Operational and Corporate Update
The Valens Company (TSX: VLNS) (OTCQX: VLNCF) commenced shipment of cannabis derivative products from its newly operational 42,000 square foot K2 Facility. Initial shipments included a wide range of products such as crumble, beverages, THC drops, vapes, and tinctures. Valens also is nearing completion of construction at its GTA Facility which will focus on manufacturing products with SōRSE by Valens technology.
"The K2 facility significantly bolsters our market position by giving us the operational footprint and expertise to fulfill the Valens vision and make us the go-to name in cannabis consumer packaged goods manufacturing in Canada and beyond," said The Valens Company Chief Executive Officer Tyler Robson. "We are in the process of ramping up our K2 Facility in order to accommodate the growth we expect to see in our product volumes, launches, and provincial demand—especially as we begin to introduce product formats that are new to the Canadian market."
---
Canadian Rockies Hemp Corporation Closes Equity and Debt Financing
Hemp processor Canadian Rockies Hemp Corporation closed a CAD $18 million equity and debt financing led by Merida Capital Holdings. CRHC will use the proceeds to complete construction of its Bruderheim biorefinery, the first of several planned across Western Canada.
"Our Company is a cumulation of 18 years of Alberta innovation, entrepreneurship, and farming that supports our success within raw material processing, where there is a need to diversify beyond oil and gas," said CRHC Chief Executive Officer Aaron Barr. "With the help of Merida Capital Holdings, we were able to stress test our company model, proactively prevent risks, and align with legal regulations, setting us up for success heading into 2021."
---
springbig Acquires Cannabis Customer Experience and Retention Platform
In a deal that increased its market share to more than 1,900 retail partners, marketing technology platform springbig acquired BudTender, a Canadian customer experience platform. The acquisition will provide retailers and brands with access to BudTender's customizable customer surveys, weekly reports, AI-powered feedback platform, customer support, and KPI tracking through its intuitive dashboard.
"BudTender has been a dominant force in the Canadian canna-tech space; the company's vision and platform effortlessly complement springbig's ongoing commitment to enhancing the cannabis retail and loyalty experience," said springbig founder and Chief Executive Officer Jeffrey Harris. "As the legal industry becomes increasingly sophisticated, brands and retailers will need to deploy more comprehensive customer retention and satisfaction solutions in order to stay competitive."
---
HempFusion Announces U.S. Symbol
HempFusion Wellness (TSX: CBD.U) (OTC Pink: CBDHF) (FWB: 8OO) secured its OTC Markets trading symbol, "CBDHF," allowing a broader U.S. investor audience the ability to trade shares in the company.
"As a U.S.-based CBD company, this important step allows a broader range of U.S. investors to access the company," said HempFusion co-founder and Chief Executive Officer Jason Mitchell. "Additionally, we have applied for an OTCQX listing and DTC eligibility, which we expect in the coming weeks subject to the approval of the OTCQX and the satisfaction of certain listing requirements."
---
Tilray Announces Agreement with Grow Pharma to Import and Distribute Medical Cannabis Products in the UK
Tilray Inc. (Nasdaq: TLRY) entered an agreement with Grow Pharma to import and distribute Tilray's medical cannabis products into the United Kingdom (UK). The agreement will allow Tilray to provide authorized UK patients with a locally maintained supply of medical cannabis solutions. Tilray expects to have a range of GMP-certified products available in the UK by March 2021.
"This partnership with Grow Pharma provides patients in need access to a sustained supply of GMP-certified, high-quality medical cannabis and is an important step in improving access in the UK," said Tilray Chief Executive Officer Brendan Kennedy. "Tilray will continue to advocate for reasonable patient access to medical cannabis in Europe and countries around the world."
---
Cresco Labs Signs Exclusive Distribution Agreement with Emerald Family Farms
Cresco Labs (CSE: CL) (OTCQX: CRLBF) entered into an exclusive distribution agreement with Humboldt County-based farmer co-op Emerald Family Farms (EFF). Under the agreement, EFF's jarred flower, pre-rolls, and concentrates will be added to Cresco's California distribution platform Continuum.
"We have long admired and supported EFF's focus on environmental stewardship and social responsibility," said Cresco Labs Regional President David Gacom. "Part of our success in expanding our California distribution network has been our ability to offer the highest quality craft flower. This agreement continues to build on that strength with some of the best flower in California being added to our roster of top performing California brands. Having brought hundreds of the region's finest farmers under one banner, EFF's success story is proof that exceptional cannabis and uncompromising values can coexist."
---
DNA Genetics Announces Strategic Alliance Agreement with GrowLAB
Cannabis brand OG DNA Genetics entered into a licensing agreement with Colombia-based GrowLAB s.a.s. The agreement grants GrowLAB license to the DNA brand, access to its library of proprietary genetics, and use of DNA's 73,000-square-foot indoor cannabis cultivation and processing facility in Medellín, Colombia.
"We're excited to announce our partnership with GrowLAB and entry into Colombia," said DNA President Rezwan Khan. "Through this partnership, we will be able to bring our unique varieties to the world and leverage the optimal growing conditions and ability to export internationally that will make Colombia an important strategic foothold in the global cannabis market."
---
Power REIT Closes Rights Offering and Raises $36.7 Million
Power REIT (NYSE-AMEX: PW and PW.PRA) closed its previously announced rights offering that expired on February 5, 2021. The company sold and issued an aggregate of 1,383,394 common shares at the subscription price of $26.50, raising aggregate gross proceeds of $36,659,941.
"We are pleased with the outcome of our rights offering," said Power REIT Chief Executive Officer David Lesser. "The process demonstrated strong shareholder interest and participation in what we structured as an investor-friendly form of capital raise that was handled in a very cost-effective manner."
---
Neptune Acquires Controlling Interest in Sprout Foods
Neptune Wellness Solutions (Nasdaq: NEPT) (TSX: NEPT) acquired controlling interest in Sprout Foods, a portfolio investment of Morgan Stanley Expansion Capital. As part of the transaction, investment funds managed by MSEC will become a major shareholder in Neptune and partner with the company to grow Sprout within Neptune's consumer product goods brand portfolio.
"We are thrilled to welcome Sprout into the Neptune Wellness family and to be working alongside MSEC to continue Sprout's growth," said Neptune President and Chief Executive Officer Michael Cammarata. "We value the team's confidence in Neptune and look forward to working together as we grow Neptune's CPG brand portfolio."
---
Zenabis Announces Establishment of an At-the-Market Equity Offering Program
Zenabis Global (TSX: ZENA), a Canadian licensed cultivator of medical and recreational cannabis, established an at-the-market equity program that will allow the company, at its discretion, to issue publicly up to CAD$15,000,000 of common shares. Shares will be sold through the Toronto Stock Exchange at the prevailing market price at the time of sale.
---
Have financial news to share in Green Economy? Send your press release to [email protected].