Chinese New Year With Cannabis
Let's celebrate today because it's the year of the Ox, and we're ready to ring in Chinese New Year With Cannabis.
The year of the Ox represents hard work, strength, and this year means if you work hard, you'll accomplish BIG things!
What better way to celebrate the Chinese New Year, and bring in big accomplishments and enjoy the fruits of your labor?
Here's a little Zodiac fun;
The Chinese zodiac calendar is on a 12-year cycle with each year having their own animal representative. This year, it's the Ox.
So how do you know what your Chinese zodiac animal is?
What Year Is The Ox?
If you were born in 1925, 1937, 1949, 1961, 1973, 1985, 1997, 2009, or 2021, then you, my friends, are an Ox!
So we're giving you total permission to eat like an Ox, and celebrate the new year Chinese-style!
---
How To Celebrate Chinese New Year
The Chinese believe that no matter where you are, all family should be together. If a family member can't be there, especially now during COVID, they leave a seat empty to honor you.
Food is most definitely one of the most important things to consider if you'd like to celebrate the new year, along with decorations and blessings that are said and hoped to bring in good fortune for the year.
Among some of the most common dishes eaten in households when celebrating Chinese New Year?
Egg Rolls, Dumplings and Noodles. Yum!
And today's recipe includes making Weed Spring Rolls. Crispy and Cannabis-y, perfect for feelings the vibes of a new year to come.
---
How To Decorate For Chinese New Year
Well, you most definitely want good fortune this year, right?
Chinese people decorate their homes with positive words like 'fu' which means happiness and good fortune.
Mandarin oranges and even Kumquats are signs of auspicious good fortune and luck.
Lastly, if you're really feeling the vibe and want to celebrate – lanterns are the way to go! I always love the way they look as they float into the sky.
The lantern festival comes at the end of the Chinese New year celebrations and is said to symbolize reunions, family, and freedom.
---
Cannabis-Infused Milk
In this recipe, you'll need to have on hand some Cannabis-infused milk.
If you don't have it, or don't know how to make it, check out this recipe below first: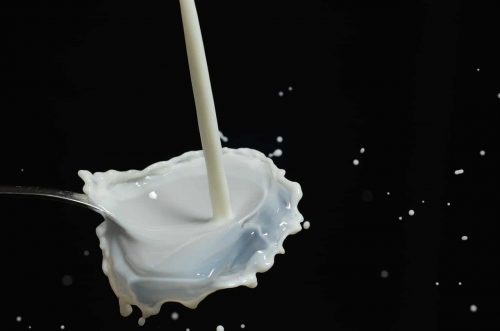 Calories: 200kcal
Decarboxylate your weed by spreading your cannabis evenly on an oven tray And coat with aluminum foil.

Place in the oven on 240F/115C for 40 minutes, and then let it cool.

Grind your cannabis or chop it fine

Place 4 cups of whole milk in a pan on low heat. Add cannabis and let simmer on low heat for 60/90 minutes without it ever coming to a boil.

Strain through a cheesecloth

Let it cool
Calories: 200kcal | Fat: 20g
---
Weed Spring Rolls Recipe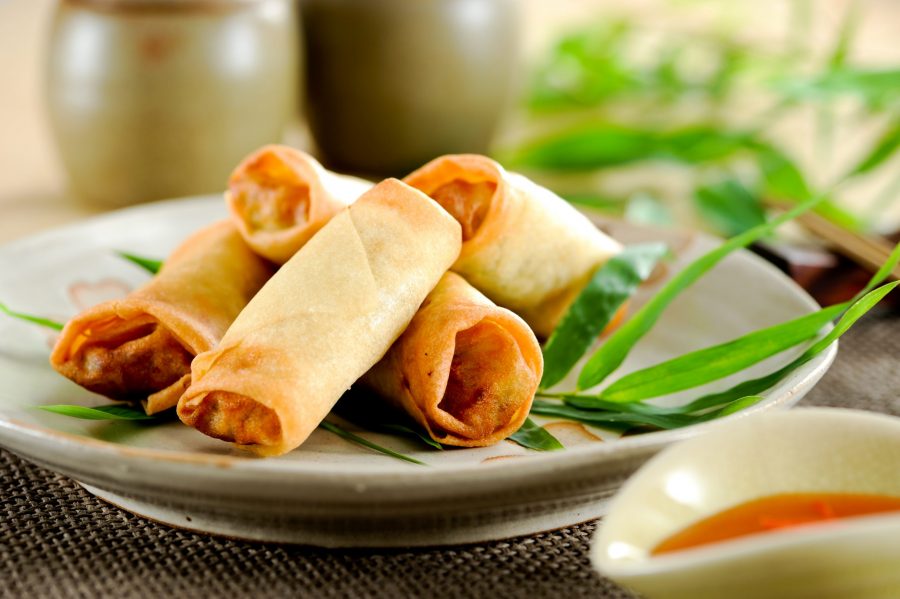 Servings: 4 people
Author: Steph Van De Ven
Cost: 10+
Oven

Sauce pan

Mixing Bowls

Cookies Sheet

Parchment Paper
SPING ROLL SAUCE
1

cup

Cannabis Milk

2

tbsp

Red Curry

1/3

cup

Peanut Butter

extra smooth

1

tbsp

Soy Sauce

1

tbsp

Apple Cider Vinegar

1/4

cup

Brown Sugar

1/3

cup

Water
Pre Heat the overn to 400F

Place your pork in a medium saucepan and cook over medium heat until browned. Strain and set aside

In a medium bowl, mix together pork, cabbage, carrot, green onions, cilantro, and sesame oil. In a separate small bowl mix cornstarch and water.

In a medium bowl, mix together pork, cabbage, carrot, green onions, cilantro, and sesame oil. In a separate small bowl mix cornstarch and water.

Arrange spring rolls in a single layer on a parchment-paper-lined cookie sheet. Brush with vegetable oil. Bake in the preheated oven 20 minutes, until hot and lightly browned. For
SPRING ROLL SAUCE
Add all the ingredients, except water, to a pot and cook over medium heat. Stir as you cook until the sugar is dissolved and everything is heated.

Just use the water to thin out the sauce until it gets to the consistency you like.
If you're looking to up-level your canna-cooking game, you may want to start here.
For more recipes like this one, check out our recipe index here.
Share our post and comment below! We'd love to hear from you.
As always, happy canna-cooking!