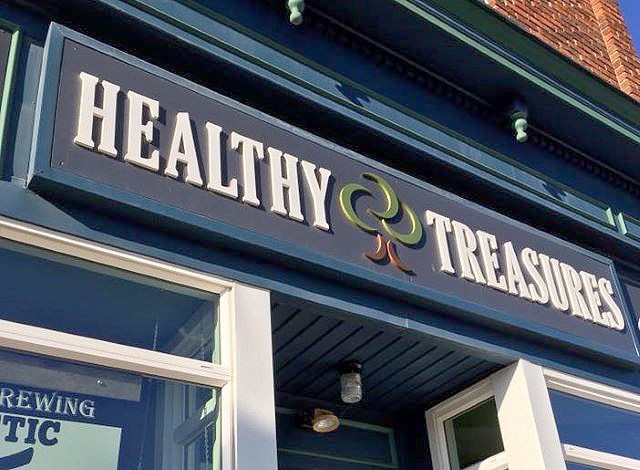 NEWTON FALLS — Healthy Treasures health food store, 40 W. Broad St., will celebrate its silver business anniversary starting at 9:30 am. today.
There will be five educational lectures, food samples and giveaways. In-person attendance at the free event is limited, and an RSVP is requested by calling 330-872-1119. All guests are required to wear masks. To attend virtually, click here.
"This has been a difficult year, but the struggle has forced us to look at our health and make it a priority in our lives," owner Synthia Suzelis said in a news release. "We are proud of how we have helped the community to achieve their health goals, and look forward to supporting more customers in the future."
Event schedule:
10 a.m. to 10:45 a.m.: Natural Alternatives in Pain Relief Using Acupuncture and Herbs to Provide Relief, presented by licensed acupuncturist Tim Iliff of Suzelis Holistic Health;
11 a.m. to 11:45 a.m.: Winter Wellness? What's New! Navigating Cold, Flu and COVID Season, presented by Dr. Ian Suzelis of University Hospitals;
Noon to 12:45 p.m.: Hemp Luxe, CBD and Your Health: To Inform and Educate the Public of the Wonders of CBD, presented by Abraham Nabors, director of education and standards at Mustard Seed Market & Café;
1 p.m. to 1:45 p.m.: Skincare and Your Hormones: How Skincare Impacts Hormone Function,
presented by Ashley Suzelis, licensed holistic esthetician and owner of Forest of Youth Holistic Spa;
2 p.m. to 2:45 p.m.: Living the Holistic Lifestyle: What is a Holistic Lifestyle and How Do We Make it Happen?, presented by Synthia Suzelis, holistic health practitioner and owner of Suzelis Holistic Health.
M&M Industries plans
to build plant in Lordstown
LORDSTOWN — M&M Industries Inc., a packaging manufacturer based in Chattanooga, Tenn., plans to expand with a new plant in the village.
M&M currently operates two plants in Chattanooga and one in Phoenix, Ariz. The Lordstown project is subject to state and local approval.
"The people of Lordstown are what stood out to us. These folks in Ohio represent the very best of our nation. It will be an honor to be a part of their community," Glenn Morris, president and CEO of M&M, said in a news release.
The Lordstown facility will manufacture current and future innovations for M&M. The facility is scheduled to begin operation in midsummer 2021.
M&M manufactures pails and packaging for pool chemicals, bioscience, laboratories, pharmaceuticals, specialty paints and food products.
The project is expected to bring 104 new jobs to the region.
"I'm very excited that M&M industries will be bringing a manufacturing plant to Lordstown," state Sen. Sean O'Brien, D-Bazetta, said in a news release. "With yet another massive investment in the Valley, the future of our local economy is looking brighter every day. I look forward to helping them however possible as they move into the next steps of development."
Akron Children's expands
at Austintown location
AUSTINTOWN — Akron Children's Hospital Pediatrics has quadrupled the number of exam rooms at its Austintown location to serve the growing need for pediatric care in the area.
An addition to the building, which expanded the space to three times its previous size, is now complete. The site, located at 5480 Norquest Blvd., also features a larger waiting area and larger parking lot.
The office now has a total of 10,267 square feet, and the original 3,000-square-foot space has been completely renovated to blend with the new construction. There are now 24 exam rooms, an increase from the original six.
Other highlights include:
More accessibility for wheelchair users and the addition of a wheelchair-accessible scale;
A dedicated child guidance room used for counseling and behavioral health visits;
Four dedicated assessment areas for recording of height, weight, blood pressure and temperatures, an increase from the previous one.
"We opened our Austintown location in 2016, and since then the number of families choosing it has steadily increased," Mike Mainwaring, vice president of Community Care for Akron Children's, said in a news release. "This newly expanded and renovated space allows us to continue our commitment to provide essential pediatric care to children in Austintown and throughout the Mahoning Valley."
Youngstown Area Jewish Federation
to host job fair on Zoom on Tuesday
YOUNGSTOWN — The Youngstown Area Jewish Federation will host a virtual job fair at 12:30 p.m. Nov. 17 via Zoom.
Participants will be given an overview of open positions and have an opportunity to ask questions.
To see a list of open positions, click here. To register for the job fair, click here.
Walmart expands services
with Walmart Pet Care
BENTONVILLE, Ark. — Walmart announced this week that it is launching Walmart Pet Care, which will bring together various aspects of pet care, including Walmart Pet Insurance and services such as dog walking and pet sitting.
"We're on a mission to help families live better — and that goes for pets, too," Melody Richard, merchandising vice president, Pets, said in a news release. "Especially as adoption rates soar as a result of the pandemic and more people become pet owners, this was the perfect time to launch expanded services in Walmart Pet Care for our customers."
Walmart Pet Care will include Walmart Pet Insurance. In collaboration with Petplan, a comprehensive pet insurance provider, Walmart customers can save up to 10 percent on their policies and can sign up for an insurance plan that provides coverage for veterinary fees due to accident, injury or illness, including chronic and hereditary conditions. Each policy also includes access to $1,000 worth of online virtual vet appointments at no additional charge.
Walmart Pet Care also will include new pet-sitting and dog-walking services through Rover, a website and app that provides access to trusted neighborhood care. Walmart is working with Rover to provide customers with convenient pet sitters and dog walkers that match each pet, lifestyle and budget. As a perk for pet owners who book services through Rover, Walmart customers will receive a $20 Walmart gift card for their first completed service and a $20 Walmart gift card if they complete their fifth service within six months.
Also included in Walmart Pet Care is Walmart PetRx, in-store and online pharmacy services introduced by Walmart in 2019.
For more information about Walmart Pet Care, click here.
— Do you have a business announcement you'd like to share? Email [email protected]